Reserve a Pull-Through Campsite
Reservation Deposits
We collect a $75 deposit for 2024 reservations made during December. You will receive a payment request for the balance of your reservation total via email during the week of January 10, 2024. Two reminder emails will be sent out approximately one week and two weeks later. Any reservations not paid in full by January 31, 2024, will be canceled and refunded less the appropriate cancellation fee on February 1, 2024.
Select your dates
Then click 'Check Availability.' The number of available campsites will be listed below as accommodations.
Reserve Multiple Campsites
If available, you may reserve more than one campsite by selecting multiple accommodations from the dropdown provided in the search results.
Easy in, easy out. No backing is needed with our Class A pull-through campsites at the west entrance of Yellowstone National Park.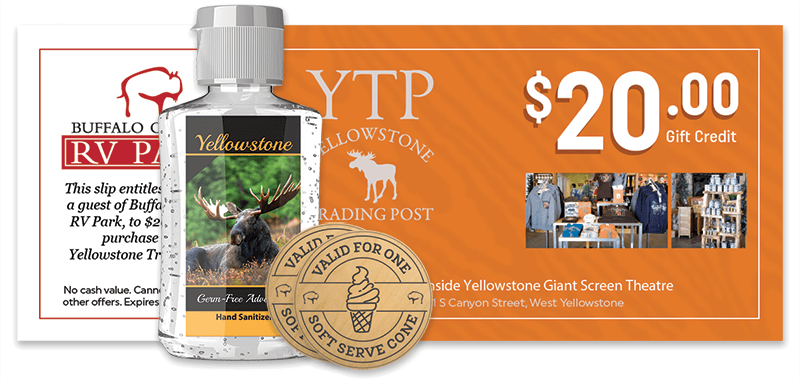 Every campsite reservation comes with the following gifts, available in the office during check-in – Limit one set of gifts per RV per 30 day period.
At the corner of Yellowstone Avenue and Canyon Street
We are located behind the Yellowstone Giant Screen Theatre (Formerly the Yellowstone IMAX Theatre). As you approach the theatre driving south on Canyon St (US 191), pass the large bear statue on the island in the middle of the street, then turn left and drive behind the theatre.