Welcome to Buffalo Crossing RV Park – West Yellowstone's newest RV Park! We are excited for your stay with us and look forward to serving you during your vacation. Our facilities consist of a Large Retail Store (Yellowstone Trading Post), Giant Screen Theatre, Laundry Room, & Spotless Restrooms with Showers.
Closest RV Camping to Yellowstone
While staying with us you will enjoy being in the closest RV Park to Yellowstone National Park – in fact, you will be immediate neighbors with Yellowstone. Access to and from Yellowstone Park has never been so easy! You will also be located closer to downtown West Yellowstone than any other RV Park visitor.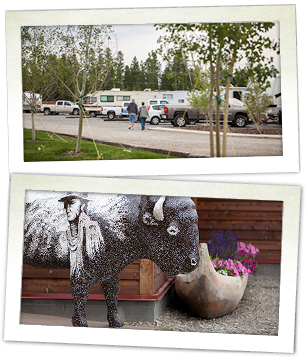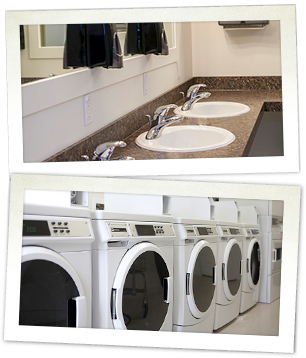 As part of your stay with Buffalo Crossing RV Park you will enjoy discounted tickets to the Giant Screen Theatre located on our grounds. The Yellowstone Giant Screen experience is the largest, most immersive movie experience you can have. Our screen stands over 60 feet tall and measures over 80 feet wide – one of the largest in the country. The Theatre shows a film on Yellowstone several times per day. Along with the Yellowstone feature you can also enjoy other Giant Screen movies and even current Hollywood hits*

(see www.yellowstonegiantscreen.com for details).
Yellowstone Trading Post is one of the largest retail outlets in Yellowstone and the surrounding areas. You will find a wide array of merchandise including Jewelry, Fine Statuary, Apparel, Yellowstone Souvenirs, Gourmet Foods, and other essentials. Also, be sure to stop in and enjoy a premium soft serve ice cream cone for only 99¢!! If it's on your list you'll be sure to find it at the Yellowstone Trading Post!
We hope you will enjoy all that our facility has to offer during your stay. As a benefit for staying with Buffalo Crossing RV Park you will receive exclusive discounts to both of the above mentioned venues. Please see the office staff for your welcome pack containing all of your special offers.